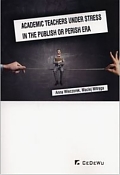 ACADEMIC TEACHERS UNDER STRESS IN THE PUBLISH OR PERISH ERA
WIECZOREK A. MITRĘGA M.
wydawnictwo: CEDEWU, 2017, wydanie I

cena netto: 58.25 Twoja cena 55,34 zł + 5% vat - dodaj do koszyka
Academic teachers under stress in the publish or perish era
---
This book is dedicated to all scholars from all over the world that choose very difficult profession and struggle nowadays with "publish and perish" academic culture. The empirical study presented in the book focuses on academic teacher stress. We applied qualitative research design to identify stressors experienced by scholars employed at Polish universities. These stressors referred to such main categories, as: teaching, workplace, research, pressures, conflicts and collaboration. The academic collaboration was found as highly stressful factor due to a variety of reasons, however networking appears to be a leverage to academic career, especially while confronted with recently observable strong pressure to publish in top-tier journals. This book emphasizes the complexity of academic stress and networking and suggests facilitating these aspects in policy making in higher education.
---
INTRODUCTION 9

CHAPTER ONE
STRESS IN THE WORK OF ACADEMIC TEACHERS - THEORETICAL PERSPECTIVE 13
The nature of teacher stress 13
Research on teacher stress 14
Defi ning teacher stress and related notions 15
Sources of teacher stress 18
Sources of teacher stress according to Kyriacou 19
Scholar's individual features determining their proneness to stress 31
Cross-cultural differences and stress 37
The symptoms of teacher stress 38
The effects of teacher stress 41

CHAPTER TWO
RESEARCH DESIGN WITH REGARD TO FACTORS INFLUENCING ON ACADEMIC STRESS 47
The research gap 47
The study objectives and general research approach 48
Research population 50
Informants' selection 51
Informants' characteristics 51
Field research procedure 52
Interviewing individuals 53
Focus group interview 57
Data analysis 58
Appendix: Part 1. The scenario of an in-depth interview with an academic teacher 60
Appendix: Part 2. Scenario of a focus group interview with academic teachers 65

CHAPTER THREE
FACTORS EVOKING STRESS AMONG ACADEMIC TEACHERS - QUALITATIVE STUDY RESULTS 67
Stressors associated with teaching at university 68
Discipline problems 68
Problematic students 69
The lack of student motivation 71
Marking 72
Stressors associated with the workplace 73
The atmosphere in the workplace 73
Rat race among teachers 74
University authorities and administration 74
More experienced colleagues 76
Inspections 76
Change 77
Stressors associated with being a researcher 78
Doing research 78
Writing peer reviewed papers 79
Applying for funds 79
Reading and writing in English language 80
Attending conferences 81
Stressors associated with pressures exerted over academic teachers 81
Exam pressure 82
Time pressures 83
Overload and bureaucracy 83
Stressors associated with conflicts 85
Role conflicts 85
Work-family conflicts 86
Teaching/research conflicts 87

CHAPTER FOUR
COLLABORATION AS A STRESSOR AND A LEVERAGE FOR ACADEMIC SUCCESS 89
The meaning of academic collaboration - what do we know so far? 91
Growing interest in academic collaboration as the research phenomenon 91
The multidimensional picture of networking in academia 93
The link between networking and the scholar's success 94
Academic collaboration as a stressor and a leverage to scholar's career - results of a focus group interview 99
Aspects of academic collaboration causing stress of scholars 99
Collaboration as a leverage to scholar's career 105

CHAPTER SUMMARY 109
CONCLUSIONS 111
APPENDIX: AN EXEMPLARY TRANSCRIPT OF AN IN-DEPTH INTERVIEW 115
BIBLIOGRAPHY 123
---
132 pages, Paperback
Po otrzymaniu zamówienia poinformujemy pocztą e-mail lub telefonicznie,
czy wybrany tytuł polskojęzyczny lub anglojęzyczny jest aktualnie na półce księgarni.