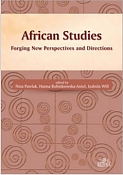 AFRICAN STUDIES FORGING NEW PERSPECTIVES AND DIRECTIONS
PAWLAK N. RUBINKOWSKA-ANIOŁ H. WILL I. EDITORS
wydawnictwo: ELIPSA, 2016, wydanie I

cena netto: 47.25 Twoja cena 44,89 zł + 5% vat - dodaj do koszyka
African Studies
Forging New Perspectives and Directions
---
The idea for this book emerged as a result of the conference "African studies in the contemporary world", hosted at the University of Warsaw on 14th October 2014, where some attitudes and methodologies representative for the topics undertaken by scholars dealing with present-day Africa were discussed. The main aim of the volume is to present a wide spectrum of interests and trends in contemporary African studies, including the application and incorporation of old and verified methods into contemporary frameworks that provide a pan-African perspective. Another aspect of African studies undertaken within this volume is the investigation of African history and cultures through post-colonial lenses. The contributions include extensive bibliographies significant both for the topics and for further research into new areas of African studies.
---
Contributors
From the Editors

The boundaries of Africa in African studies

ADAM ŁUKASZEWICZ
Egyptian archaeology - a part of African studies?

HAFIZU MIKO YAKASAI and ALIYU MU'AZU
Hausa studies in the 21st century: prospects and challenges

ELŻBIETA BUDAKOWSKA
African studies at the cross-worlds of Portugal and West Africa. The phenomena of Cape Verdean creolization

JOANNA MORMUL
New institutionalism in research on dysfunctional states in sub-Saharan Africa: "institutional multiciplity" and the Luso-African example

EWA WOŁK-SORE
"Among Manuscripts and Men of Ethiopia". Stefan Strelcyn's quest for African studies

Different perspectives of studies on languages

SERGIO BALDI and RUDOLF LEGER
What are plants good for? Plant names and related superstitions among the Kupto people (Northern Nigeria)

ISA YUSUF CHAMO
Language and identity in Africa: the use of place names as part of a person's name in Hausa

SEYNI MOUMOUNI
Ecriture et societe en Afrique au 20e siccle d'apres quelques documents ajami haoussa du Nigeria

NINA PAWLAK
Between oral and written tradition: the concept of 'truth' (gaskiya) in Hausa

IZABELA ROMAŃCZUK
Swahili women's traditional creative writing

IZABELA WILL
To what extent do African studies refocus our understanding of gestures?

The question of sources

CHRISTINE CHAILLOT
How to preserve the history of the oral traditional education of the Ethiopian Orthodox Church in Ethiopia: qene teachers in Wasara, Gong, Salalo and elsewhere in Goggam

ANETA PAWŁOWSKA
South African museums. Representation and identity

ROBERT PIĘTEK
European institutions and patterns in Kongo in the 16th and 17th centuries

HANNA RUBINKOWSKA-ANIOŁ
The interpretation of Ethiopian cultural texts - the coronation of Haile Sillasie as a text

BOGUSŁAW R. ZAGÓRSKI
Central African (Sudanic) Arabic toponomastics - the special case of Chad

JAN ZAHORIK
Czech sources on the modern and contemporary history of Africa
---
292 pages, Hardcover
Po otrzymaniu zamówienia poinformujemy pocztą e-mail lub telefonicznie,
czy wybrany tytuł polskojęzyczny lub anglojęzyczny jest aktualnie na półce księgarni.