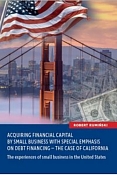 ACQUIRING FINANCIAL CAPITAL BY SMALL BUSINESS WITH SPECIAL EMPHASIS ON DEBT FINANCING - THE CASE OF CALIFORNIA THE EXPERIENCES OF SMALL BUSINESS IN THE UNITED STATES
RUMIŃSKI R.
wydawnictwo: WYD UN SZCZECIN, 2017, wydanie I

cena netto: 61.10 Twoja cena 58,05 zł + 5% vat - dodaj do koszyka
Acquiring financial capital by small business with special emphasis on debt financing - the case of California
The experiences of small business in the United States
---
Introduction

Chapter 1
Specificity and role of small business in the United States
1.1. The category of small business
1.2. Legal forms ofstarting and running a small enterprise
1.3. The role of small business in the economy
1.4. Policy towards the American small business

Chapter 2
Financing the development of small business in the United States with special emphasis on equity capital
2.1. The role of capital structure in small enterprise development - finance theory and practice
2.2. Keysources of private equity financing
2.2.1. Venture Capital
2.2.2. Business Angels
2.2.3. Other sources of equity

Chapter 3
The U.S. small business debt financing and alternative financial support offered to enterprises
3.1. Bank financing as a common method of acquiring capital by small business
3.1.1. The U.S. banking system - structure and distinctive features
3.1.2. Leading bank industry players supporting small enterprises
3.1.3. Factors influencing small business bank financing
3.2. Alternative sources of financing business development

Chapter 4
The empirical study of relationship banking - the case of California
4.1. The applied research methodology
4.2. Empirical research of debt financing in California - presentation and analysis
4.3. Supplementary statistical analysis
Concluding remarks and policy recommendations

Annex: Small business questionnaire
Tables and Figures
Bibliography
Streszczenie
---
297 pages , Paperback
Po otrzymaniu zamówienia poinformujemy pocztą e-mail lub telefonicznie,
czy wybrany tytuł polskojęzyczny lub anglojęzyczny jest aktualnie na półce księgarni.